You are here
Wedding dresses around the world in pictures
Wedding dresses around the world in pictures
Initially, today's post was going to take a look at all of the wedding dresses that are worn around the world, and provide something of a summary of each.
Then, it quickly became apparent that this information is actually quite difficult to obtain!
Instead, we've scoured the internet and found some of the most interesting infographics about wedding dresses across different cultures. Sure, we might not have one for all 195 countries in the world, but today's post will provide you enough insight to find out what is worn on the big day in cultures across the globe.
An overall look at iconic wedding dresses
This first graphic is one of the most interesting as it groups a lot of what we are going to talk about together. It looks at some of the most iconic wedding dresses from since the beginning of time - and these occur from all around the world.
Not only that, but there's dresses from Royals and then dresses from lesser-known celebrities. It means that it provides a rounded view, and is a great starting point for anyone looking to get an overview of wedding dresses around the world.

Author: https://www.lulus.com/blog/fashion/iconic-wedding-dresses/
A quick breakdown on nations as a whole
Following on from the above, if you want to find out specifics about wedding dresses across the world, this is the infographic for you.
It comprises everything from the Chinese wedding attire, right the way to what Norwegian brides wear. Unsurprisingly, there are some distinct differences and with a total of 25 different cultures covered, this is something that paints some very interesting pictures of how wedding days pan out around the world.

Author: https://www.avasflowers.net/infographic-traditional-wedding-attire-around-the-world
A closer look at the Indian saree
Granted, Indian dresses are covered on the previous piece, but as anyone who has visited an Indian wedding will testify this is anything but a simple affair. In relation to the dress itself, there are umpteen styles, and this piece by Saree.com looks at some of the most popular designs to show you just how things can turn out.

Author: https://www.saree.com/blog/five-sarees-rock-wedding-season/
The Western dress in-detail
The final member of our list is perhaps the most obvious. As most of the Hollywood movies show us, there's nothing quite as traditional as the white wedding dress. Of course, there are umpteen styles available to choose from, and this is where this infographic comes into play. It shows what is, and what isn't available, when it comes to a traditional Western wedding gown.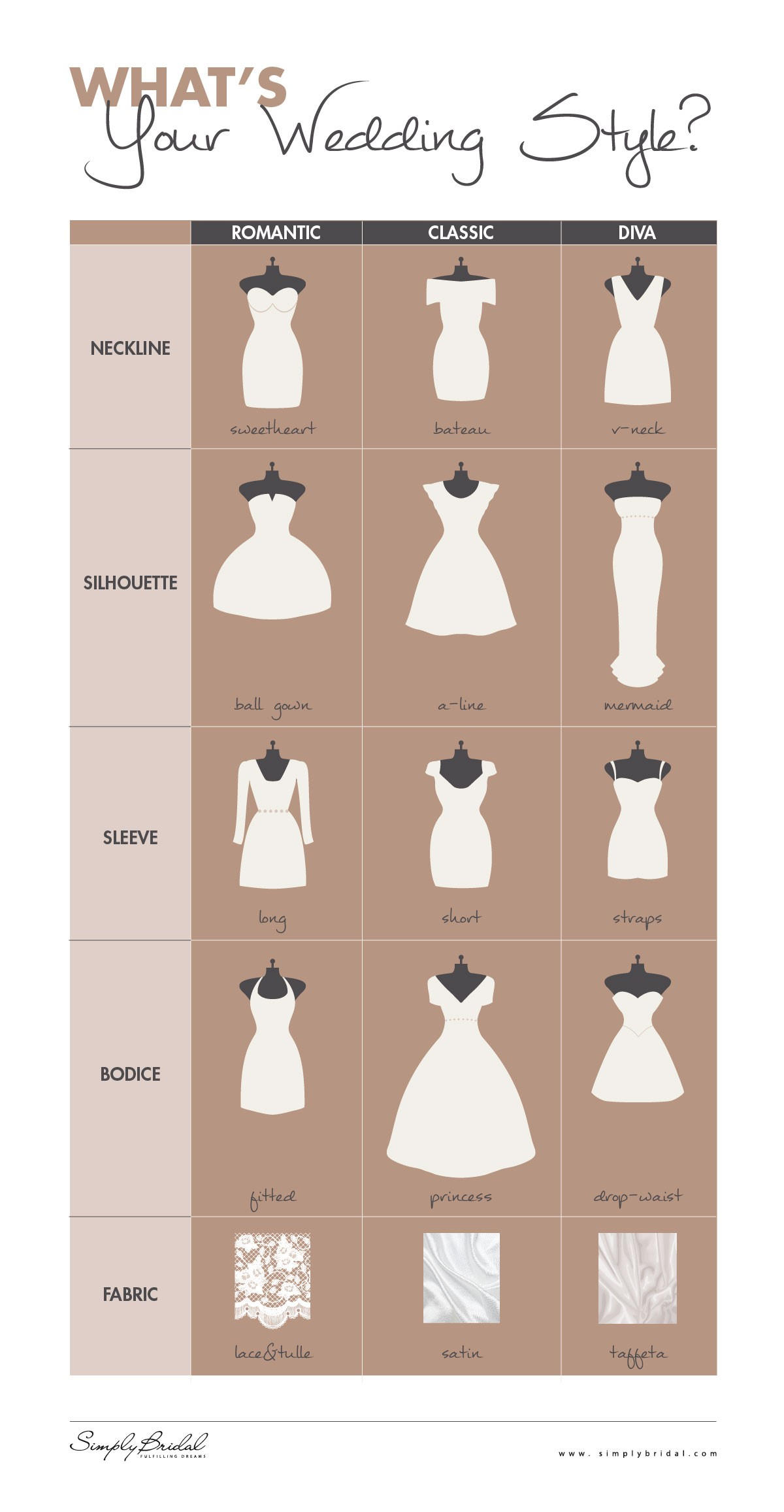 Author: Originally Simply Bridals, but republished and available on Huffington Post, https://www.huffpost.com/entry/wedding-gowns_n_2497919