You are here
The Ultimate Valentine's Day Gift Guide
The Ultimate Valentine's Day Gift Guide
'Tis The Season Of Love With The Tribe Concepts
January 2022, National – Valentine's Day is right around the corner and you know what that means – it's time to show our loved ones how much they mean to us and make them feel special. What does this better than meaningful, thoughtful gifts that will help them indulge in some much needed selfcare? The Tribe Concepts, India's leading organic skin and haircare brand, presents to you the ultimate Valentine's Day gift guide for this season of love.   
Indulge in all things luxurious Ayurveda has to offer Amara, the eternal conquest of Beauty ends with this beautifully curated box. Luxuriously crafted with a touch of elegance, our Amara Bath Essentials box is a fusion of oils & cleansers made with revitalising herbs & precious Ayurvedic ingredients for healthy hair and skin. This top to toe luxurious bath ritual box is an experience to behold and serves as a great gifting option for your loved ones.
In this box, you get to enjoy 
 
90 Day Miracle Oil
Extra Virgin Coconut Oil
24k Kumkumadi Thailam
Face Brightening Daily Cleanser (With Steel tin)
Ubtan Body Cleanser (Without Steel tin)
Organic Hair Cleanser (Without Steel tin)
Complimentary Coconut bowl
Price – INR 3,999/-
Link – https://thetribeconcepts.com/products/amara-bath-ritual-box
Niyama Essentials Box
First step to get started on your Ayurvedic Journey 'Niyama' are positive duties & observances recommended by Yogic Philosophies for healthy living. Indulge in an Ayurvedic daily routine with the Niyama Essentials Box and experience the positivity, joy and happiness that accompanies a holistic Ayurvedic lifestyle. This starter kit is specially curated not just as a great gifting hamper but also for the most important thing- self-indulgence!
In this box, you get to enjoy
 
24k Kumkumadi Thailam
Face Brightening Daily Cleanser
Ubtan Body Cleanser
Root Strengthening and Conditioning Hair Mask (sample size)
Complimentary Coconut bowl
A beautiful gift box to store all your keepsakes
Price – INR 2,099/-
Link – https://thetribeconcepts.com/products/niyama-essentials-box
Face Brightening Kit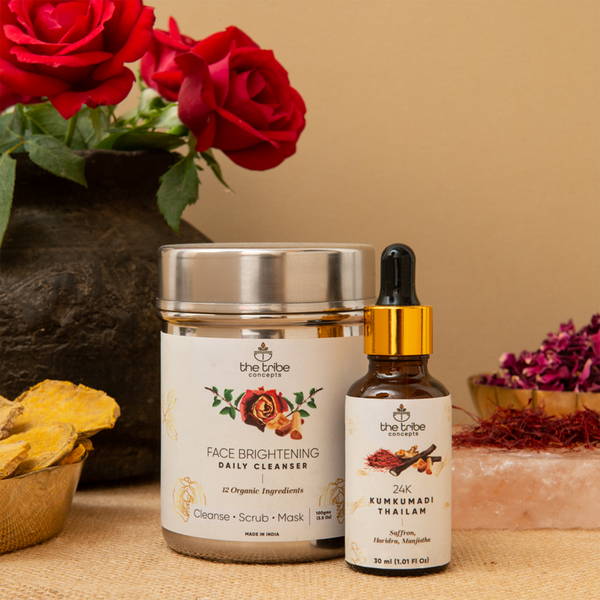 Who does not want to look vivacious? Here's the Best Combo that helps you get an Even Toned, Blemish Free, Brighter & Glowing Skin. With the regular use of the "FACE BRIGHTENING KIT", you can experience that fresh, young and vivacious look you've always wanted. It helps to efficiently clear dark patches, dark circles, blemishes, and makes you look all glammed up.
In this kit, you get to enjoy
24k Kumkumadi Thailam
Face Brightening Daily Cleanser
Price – INR 1,548/-
Link – https://thetribeconcepts.com/products/face-brightening-kit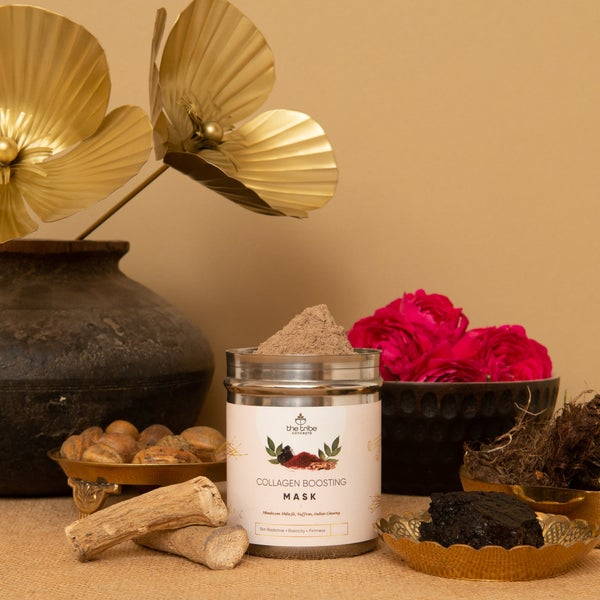 With the oil you get to indulge in an Extra Virgin Black Sesame Oil infused with Hibiscus, Fenugreek and Indian Gooseberry. It's an excellent treatment for all your hair woes. It's an age-old tribal secret deep rooted from tribes of India which was brought to after a yearlong extensive research. Continue using for 3 months to get thicker, smoother and luscious hair.
Price – INR 799/-
Link – https://thetribeconcepts.com/products/90-day-miracle-hair-oil
Collagen Boosting Mask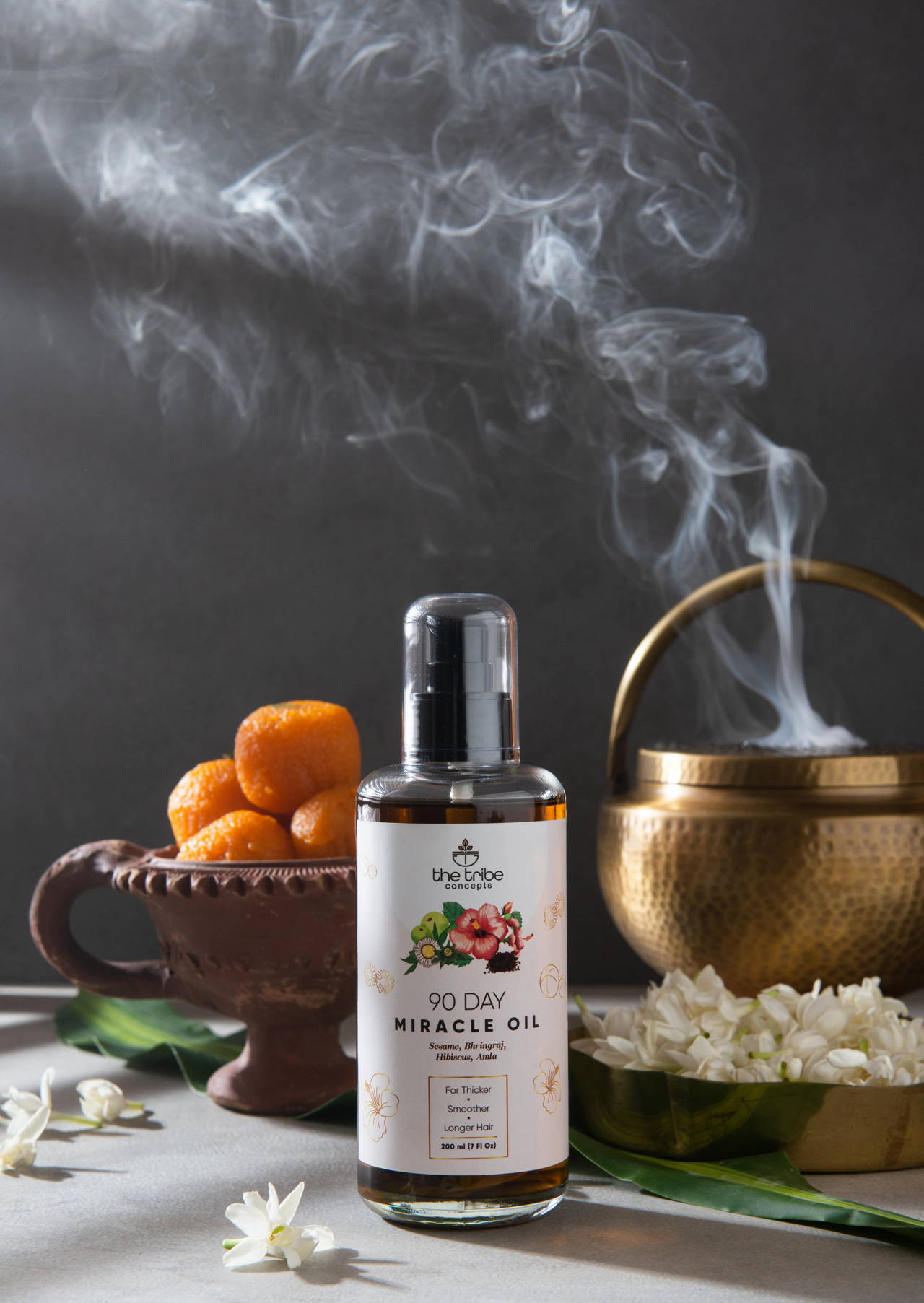 Made with potent ingredients, this power packed product is highly beneficial to vitalize your skin. Ingredients like Shilajit, Saffron and Indian Ginseng have skin restorative benefits which helps reduce free radicals and give your skin the firmness and elasticity it deserves. Make your skin defy your age and help achieve a younger looking skin, naturally!
Price – INR 1,299/-
Link – https://thetribeconcepts.com/products/collagen-boosting-mask
About The Tribe Concepts
A sustainable, eco-friendly beauty brand, The Tribe Concepts is a line-up of pure, bespoke, and ayurvedic results-driven skin and hair care formulated by vegan and natural ingredients handpicked from the Indian soil. Laid on the foundation of wisdom from past generations, Amritha Gaddam came up with this unique idea by blending her father's studies of ayurvedic medicine and her mother's herbal remedies.She firmly believes that our body and minds have their own way of healing things and a little bit of help from nature can speed things up considerably. She packages this wisdom in reusable tins and bottles to formulate her organic skin-care brand The Tribe Concepts.
With a lot of home-grown brands well-established in the market, the fact that makes The Tribe Concepts stand apart is that where natural products contain 90% added chemicals and 10% of the real natural ingredient, The Tribe Concepts is the real 100% natural brand where the ingredients grow wild - in the Rajahmundry Hills in the Godavari Valley - in soil that has never known pesticides, taking in water that comes straight from skies and flourishing in the air that is free of pollutants.
Website – https://thetribeconcepts.com/