You are here
Snickers Appoints M.S Dhoni As Brand Ambassador
SNICKERS® HITS A SIX, APPOINTS M.S DHONI AS BRAND AMBASSADOR
`India's former Captain Cool shows his 'hangry' side, features in new TVC for brand`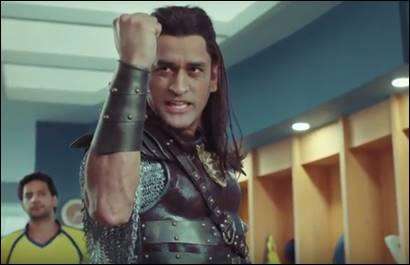 Mars Wrigley Confectionery today announced the appointment of Indian cricketer Mahendra Singh Dhoni as the new brand ambassador for its chocolate brand SNICKERS®.
Since its launch in India, the filled chocolate bar has effectively established itself as a solution to hunger cravings and developed a strong base of loyal consumers. The brand, known for its quirky, tongue-in-cheek personality has found a partner in the charming and dynamic cricket icon, M.S. Dhoni. As the cricketer gets set to join the SNICKERS® family, fans will get a chance to see a side of him that has so far remained undiscovered – that of a Drama King.
Taking forward it's 'You Are Not You When You're Hungry' proposition, SNICKERS® association with the former Indian cricket captain kickstarts with a new TVC. Conceptualized by creative agency RK SWAMY BBDO, the TVC captures a humorous locker room conversation between Captain Cool and his team. M.S Dhoni is seen in a completely new avatar, dressed as a warrior. Channeling his inner king, in full gusto, he calls upon his teammates to take a pledge to beat the opposing team. This uncharacteristic tirade is finally brought to an end when one of the players reasons that hunger makes even Captain Cool lose his cool and offers him a bar of SNICKERS® to satiate his hunger. 
The new TVC gives a new spin to M.S. Dhoni's otherwise calm personality and successfully reiterates that hunger ache achhon ko badal deta and India's favorite cricketer is no exception!
Talking about the association, Mr. Yogesh Tewari, Marketing Director, Mars Wrigley Confectionery, said, "We are honored to have M.S. Dhoni join the SNICKERS® family. The brand is loved across the world for its cool quotient and there is no one who personifies this better than our very own Captain Cool. Ever since its launch in the Indian market, SNICKERS® has successfully built upon the philosophy of how you're not you when you are hungry. With the association of M.S Dhoni, we are beginning the next chapter of our journey in India and strengthening our relevance amongst Indian consumers."
Speaking about the association, M.S. Dhoni, said, "I am extremely excited to be associated with SNICKERS®. It breaks away from the monotony and resonates with the quirk in everybody. It has the capability to curate emotions that redefine one's personality the best. It has always been one of my favourites not only because of its delicious taste, but also because it is a perfect solution to hunger pangs. This association comes to me as a natural fit as nothing can satiate the angry hunger as well as SNICKERS® does."
The TVC will be aired nationwide starting 5th March 2018. It will be supported by an extensive 360-degree marketing approach including Digital, in-store and OOH.
TVC Details:
TVC Duration: 30 seconds
Creative Agency: RK Swamy BBDO
Team credits 
Creative: Navneet Virk, Madhu Ravi, Jacob Kurian,
Account management:  Vijay Gopal, Ashish V Deodhar ,Ramya Murthy,Mohan
Planning: Ashish V Deodhar, Sagarika Gupta
Production House: Keroscene Films
Director:Rajesh Saathi
Producer: Simran Bedi
About MARS Wrigley Confectionery: 
Mars is a family-owned business with more than a century of history making diverse products and offering services for people and the pets people love. With almost $35 billion in sales, the company is a global business that produces some of the world's best-loved brands: M&M's®, SNICKERS®, TWIX®, MILKY WAY®, DOVE®, PEDIGREE®, ROYAL CANIN®, WHISKAS®, EXTRA®, ORBIT®, 5™, SKITTLES®, UNCLE BEN'S®, MARS DRINKS and COCOAVIA®. Mars also provides veterinary health services that include BANFIELD® Pet Hospitals, Blue Pearl®, VCA® and Pet Partners™. Headquartered in McLean, VA, Mars operates in more than 80 countries. The Mars Five Principles – Quality, Responsibility, Mutuality, Efficiency and Freedom – inspire its more than 100,000 Associates to create value for all its partners and deliver growth they are proud of every day.
For more information about Mars, please visit www.mars.com. Join us on Facebook, Twitter, LinkedIn, Instagram and YouTube.