You are here
Give Your Kitchen The Best Cast Iron Pans and Skillets By Le Creuset India
Give Your Kitchen The Best Cast Iron Pans and Skillets By Le Creuset India
When it comes to our kitchen, it deserves the best of the best. The pans, pots and casseroles need to be updated from time to time. Doing so can be a tedious process but with Le Creuset this job can be pretty easy and fun.
Le Creuset is a premium French cookware manufacturer. Since 1952, the cookware firm has been known for its gorgeous enamelled Cast Iron pots, which have all been produced at the original French Foundry Colorfully-enameled cast-iron cookware "French ovens", also known as "cocottes" or "coquelles" and "sauce pans" or "casseroles".
When we talk about Cast Iron, the first name to pop up in your head is Le Creuset. It is a must-have for any Cast Iron collection.
Now let us understand what Cast Iron is in simple terms. Cast Iron is an alloy containing 2 to 4% carbon, as well as various levels of silicon and manganese. It's manufactured in a blast furnace by reducing iron ore and is an excellent conductor of heat.
Le Creuset offers the finest Cast Iron pans and Skillets which are a blend of modern and traditional luxury that serves the purpose for multiple occasions.
The pans and skillets may come at a premium price, but in exchange you receive top notch and stain-resistant interior which come with built-in stabilizers that lock in the flavour.
Now let us have a look at some of the best Cast Iron pans and skillets by Le Creuset:
1.Evo Round Casserole 25cm- Marseille Blue
This casserole is perfect for longer cuts of meat. Try roasting a chicken with the lid on for a succulent bird that falls off the bone and keeps your oven clean in the process. This versatile round casserole is large enough to roast a whole leg of lamb and narrow enough to leave extra space for the trimmings. Ideal for casual house dinner gatherings.
INR: 24,000
2.Cast Iron Paella Pan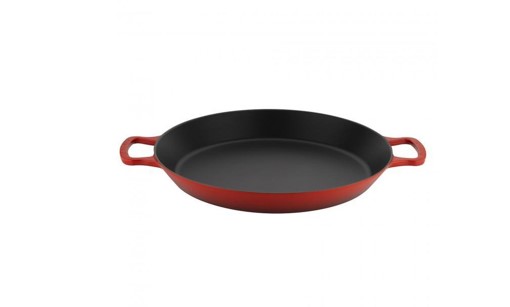 Paella is traditionally cooked and served straight from the paella pan, becoming a centre piece for sharing a meal with family and friends.
Handcrafted from premium cast iron, Le Creuset's Cast Iron Paella Pan can be used on the hob, under the grill and in the oven to suit all your cooking requirements.
INR: 19,500
3.Evo Buffet Casserole 30cm- Flame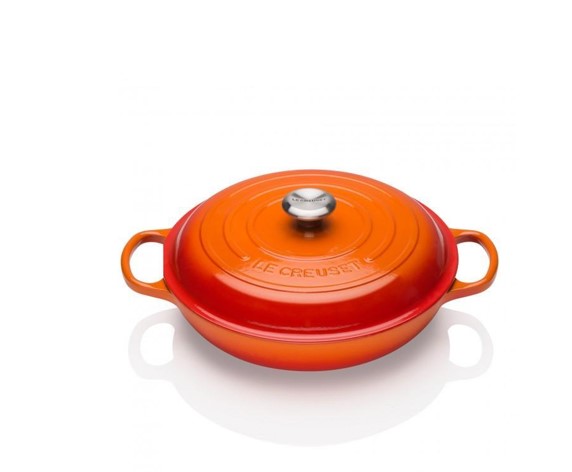 The Evo Buffet Casserole is ideal for a wide range of dishes from quick creamy risottos to tender, flavourful meat and vegetables or crisp, golden pies and tarts. The large flat shape and shallow sides of the Cast Iron Shallow Casserole make it perfect for browning meat and vegetables, stir frying and baking.
INR: 21,500
4.Cast Iron Wok 32cm- Flame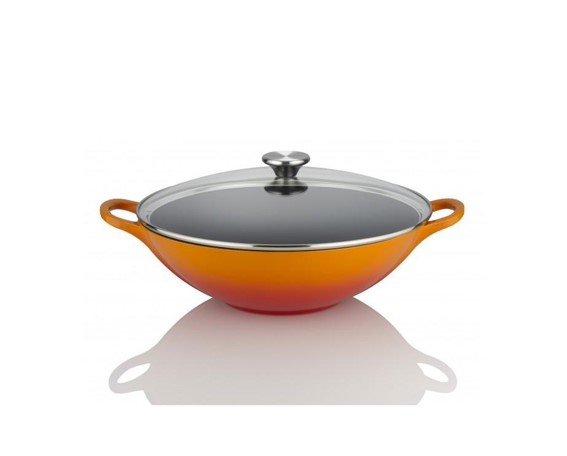 Hand crafted from premium cast iron, Le Creuset's Cast Iron Wok fuses tradition with modern design. The Wok is based on the traditional shape, but has been modernised to be suitable for all hob types including ceramic, halogen.
INR: 26,000