You are here
Festival aftermath for your skin and hair with The Tribe Concepts
Festival aftermath for your skin and hair with The Tribe Concepts
Festivals leave the skin damaged with all the chemicals, pollution and dirt that sticks to the pores and penetrates deep into skin making it look dull, dark and dry. As for hair, all the styling with heat and colour damages it making your scalp dry and your hair thin with no shine. We get involved during the celebration so much that we forget about the consequences but now since the festival season is over it's important to focus on your skin before any further damage and return its glow back. Since winter is approaching too, it's very important to give your skin and hair nourishment before laziness kicks in for the cozy weather.
After the festive season, The Tribe Concepts has got some special range of products for your skincare and haircare routine that will give you the glow and nourishment that you require with the help of ayurveda. A specially curated skincare and haircare range for your radiant skin and nourished hair.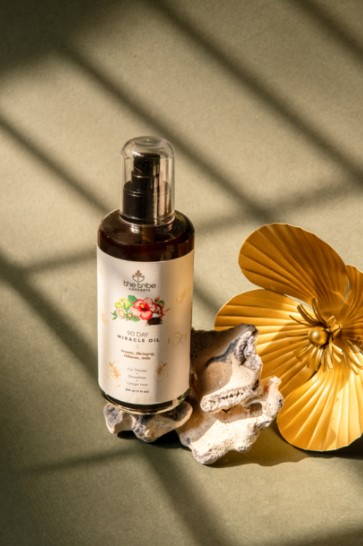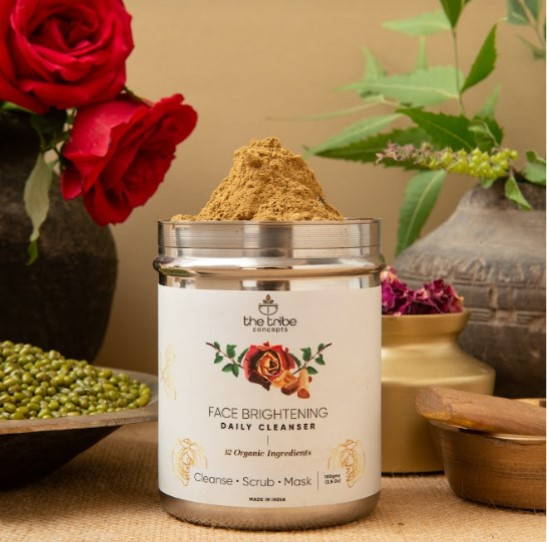 Your skin goes through a lot of torture during your important days and it's necessary for you to give your skin some time to breathe from all the chaos that makes it look uneven. You can use a product like Face Brightening Daily Cleanser from The Tribe Concepts to get that even tone and it even hydrates the skin from within. Face Brightening Daily Cleanser is 3 in 1 miracle skin cleanser that is made with 12 natural ingredients to give you that glowing and even tone skin.  This cleanser especially helps with skin brightening; it reduces those pores by removing blackheads and whiteheads. It imparts a clean, clear, fresh, glowing skin and removes the dark circles making you look as radiant as possible. 
As far as your hair care is considered after festivals and before winters which make your scalp dry and leads to all dandruff problems, The Tribe Concepts has its own range of oils and cleanser to give your hair the life of ayurveda with all important herbs that will stop the hair fall, make your scalp healthy and return the volume to your hair. Your hair goes through damage every day and all that can be difficult to heal with your regular products because of chemicals creating a barrier and that leads to frizziness, split ends and hair fall. Now to get over all that chaos your hair went through, you can use products like 90 Day Miracle Oil, Extra Virgin Coconut Oil, Organic Hair Cleanser and Root Strengthening and Conditioning Hair Mask which will nourish your chemically treated hair, provide smoothness, prevent hair loss, help hair grow and remove dandruff. Additionally, they will prevent hair breaking thus treating split ends and even stimulate scalp health which would give thickness to your hair.
The Tribe Concepts even came up with its magical boxes for your skin and hair which would be a perfect gift you can gift yourself and your loved ones. The boxes contain all the products to make your skin glow and make your hair look healthy.
 
Amara bath ritual box contains all the products you need to get rid of your festivite aftermath. The box contains the 90 Day Miracle oil, Extra Virgin Coconut Oil, Organic Hair Cleanser for your unhealthy hair. As for skin it has the best Face Brightening Daily Cleanser for that glow along with 24k Kumkumadi Thailam and Ubtan Body Cleanser. This is a great box for your whole body if you have a problem of pores, oily skin or even dry skin, face brightening cleanser can work miracles for you. It is often observed that after styling your hair the next day you have hair fall, your hair becomes dry and frizzy.
Niyama essential box will help you fight those rigid pigmentation; make your skin glow by giving you an even tone. It reduces pores and gets rid of those stubborn dark circles and makes your skin look young with its anti- aging formula. This box contains the goodness of herbs in the form of 24k Kumkumadi Thailam, Ubtan Body Cleanser and Face Brightening Daily Cleanser for your glowing skin. For your healthy hair it has the goodness of Root Strengthening and Conditioning Hair Mask.
 Shop for your beautiful face and hair at https://thetribeconcepts.com/.